We are delighted to announce the release of  1KBW on Trusts in Matrimonial Finance Proceedings. A comprehensive guide to issues frequently arising in English matrimonial finance cases, where one or both spouses has an interest in, or access to, trust assets.
By Richard Harrison QC, Harry Oliver, Laura Moys, Charlotte Hartley, Thomas Dance and Max Turnell
Click here to order your copy of 1KBW on Trusts in Matrimonial Finance Proceedings – Early bird discount of 15%. Quote: BP1KBWCHAM (Discount runs until the 11th March).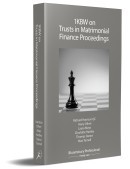 Click here to read free chapters from 1KBW on Trusts in Matrimonial Finance Proceedings.
Key topics covered include:
Jurisdiction
Service and joinder
Nuptial settlements
Trusts as resources
Enforcement
Chapters summarise the key principles of English family finance and trust principles through diagrams, flowcharts and tables, alongside clear narrative, to ensure the more technical information is intelligible yet authoritative.
An indispensable tool kit for English practitioners and judges working in the field of family finance, as well as those practising in other jurisdictions looking for an accessible guide to the English matrimonial arena. It also contains vital information for trust and corporate lawyers encountering matrimonial disputes when trustees are joined or otherwise intervene in family cases.